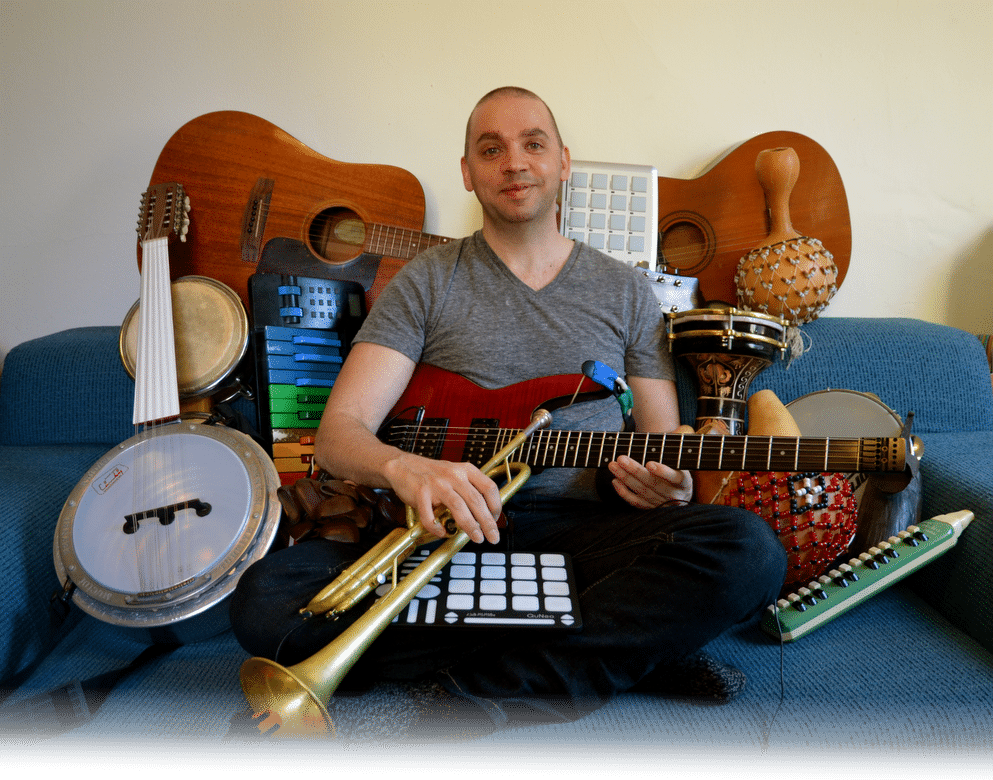 Scott Hampton is a professional composer with over 20 years experience creating music. He is an accomplished instrumentalist, regularly recording on trumpet and guitar as well as an ever-expanding collection of diverse instruments from all over the world. His library music has been featured hundreds of television shows on networks including NBC, ABC, The Food Network, Bravo, HGTV, Travel Channel, MTV, DIY Network and TV Land.
In 2014 Scott worked with veteran independent film director and former 'Jerky Boy', Kamal Ahmed on the feature film Laugh Killer Laugh, starring Tom Sizemore (Heat, Saving Private Ryan) and William Forsythe (Raising Arizona, Boardwalk Empire). In addition to composing a unique score combining the sounds of film noir, jazz and 70s crime soundtracks, Scott played trumpet, trombone, guitar and several other instruments on the score. Scott provided an indie-rock score for the feature-length documentary Victor's Last Class, directed by Brendan Brandt and Produced by Emmy Award-winning editor Arielle Amsalem. This film was selected to screen at the prestigious International Documentary Festival in Amsterdam (IDFA).
Scott was awarded a fellowship in 2013 for his innovative approach to film composition, earning him a spot on BMI's prestigious Film Scoring Mentorship where he studied under veteran film composer Rick Baitz. Scott also received an advanced certificate in Composition for Film and Television from Berklee College of Music.
Performing as exaltron around New York City and touring nationally, his sound takes the legacy of jazz and funk to new places through the use of live looping and advanced electronics. Scott brings this mix of tradition and technology to his film and television work, using the most advanced production techniques and digital tools, typically along with real acoustic instruments to enable a creative, human feel, as well as the ability to create sophisticated and creative productions within realistic time frames.
His work reflects a long-time fascination with cinema and a deep appreciation for film culture and the many ways in which meaning is created in film, where music is a vital ingredient that functions to support the overall vision of the film.