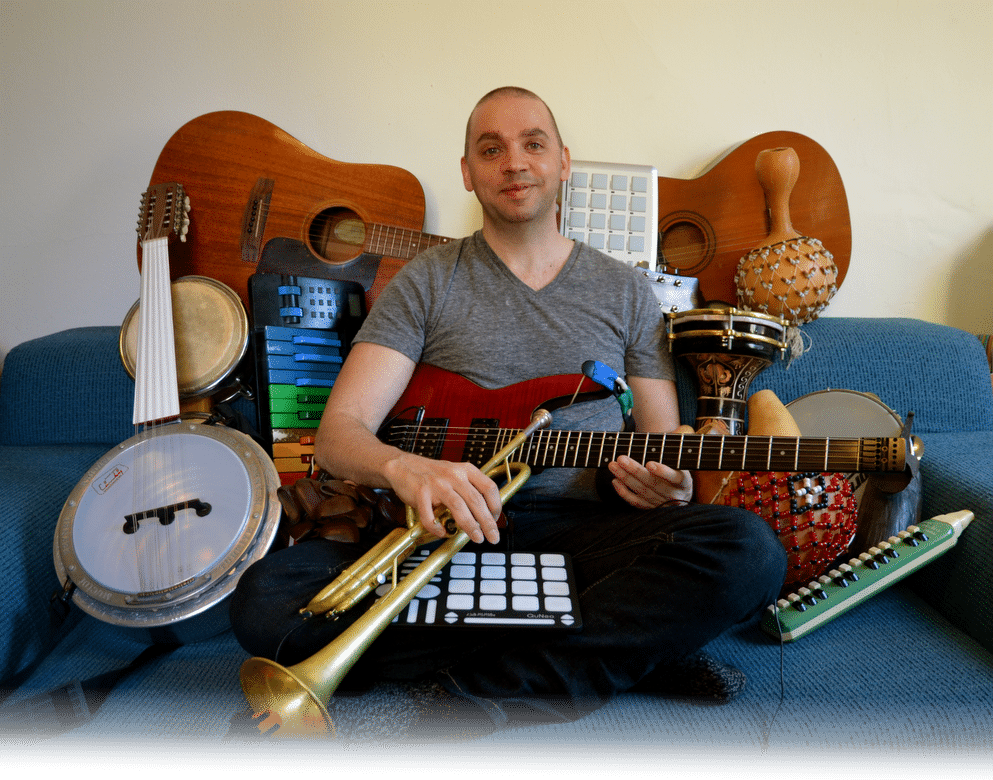 Hi and thanks for taking the time to check out my background, which I've written in the first person to prove that I'm approachable and not at all stuffy. I'm a musician and composer with over 20 years experience creating music. I started out as a performer and producer, with trumpet and guitar as my main instruments, as well as a small arsenal of different instruments I've collected in my travels to places like Spain, Greece and Turkey. My focus on experimental, electronic, ambient and non-western styles of music led to music placements through various libraries and later to film scoring opportunities. Since 2012, I've scored 11 feature films, more than 40 shorts and many other projects, including documentaries, web series, animated shorts and branded content.
My music has been licensed on hundreds of television shows on networks including NBC, ABC, The Food Network, Bravo, HGTV, Travel Channel, MTV, DIY Network and TV Land. I maintain a large catalog of songs, with currently over 200 tracks available through different music libraries.
As a bisexual composer, I'm especially proud of the work I've done with fellow LGBTQ artists and other underrepresented filmmakers. I've also been especially fortunate to work with filmmakers from around the world, including China, The Dominican Republic, Finland, France, Spain, Sri Lanka, and  the UK. These collaborations inspire and challenge me, expanding my sensitivity to different types of storytelling and different approaches to the universal languages of film and music.
Recent Career Highlights: 
2019
Commissioned by playwright Momoko Ono to compose music and lyrics for her semi-autobiographical musical Shadow Puppet, an absurdist comedy dealing with substance abuse, where sexual organs abandon their unworthy owners. Set in the 1980s, the music is inspired by the glam pop of artists like Prince and David Bowie, with layered guitars and synths bubbling under the virtuoso talent of Broadway performers like Satomi Hoffman and Carrington Vilmont, regular cast members in Phantom of the Opera.
2018
Created custom electro and hip-hop music for international brands, including Peroni and Calzedonia.
To raise money for Planned Parenthood, I collaborated with fellow NYC performers, actors, and filmmakers to compose and produce an anti-Trump hip-hop manifesto, The Best Words. By offering free downloads of the track, we raised over $1000 to support Planned Parenthood.
Recorded and produced cast recordings of the musical "Time It Is: To Music" by award-winning playwright Lissa Moira with music and lyrics by Michael Maricondi.
2017
Provided electro score for "House of Xmas" short film profiling the holiday gathering of an NYC voguing house, produced by Bravó for Dazed Media. Selected as Vimeo Staff Pick.
HP Lovecraft-inspired horror feature Black Wake, starring Tom Sizemore and Nana Gouvea, wins Best Horror Feature at Philip K Dick Sci-Fi Festival.
"Set to the low thrum of composer Scott Hampton's nerve-jangling musical score, these scenes collectively build to a level of fatalistic, end-of-the-world ominousness that's pretty epic for such a small-scale film. "– Film Threat
2016
Scored the YouTube sensation "A Stranger Things Christmas" with jazzy piano inspired by the original Vince Guaraldi score. The animation by Leigh Lahav currently has over 3 million views on YouTube.
A series of parody commercials I scored for Above Average, starring sports legends Victor Cruz and Karl Towns, were featured on Rachel Dratch's Late Night Snack (TruTV).
2015
Provided indie rock score for LGBT-themed documentary Victor's Last Class, official selection at the International Documentary Film Festival in Amsterdam.
Designed custom Ableton midi setup for composer Rick Baitz's "Hall of Mirrors", a percussion work with live electronics commissioned by The Juilliard School, including performance at Juilliard in 2016.
Scored the feature film "Laugh Killer Laugh", directed by award-winning founding member of prank pioneers the "Jerky Boys". The film stars William Forsythe (Boardwalk Empire, Raising Arizona), Tom Sizemore (Saving Private Ryan, Heat) and several regulars from HBO's The Sopranos.
"The opening credits perfectly evoke '70s era exploitation films" – The Hollywood Reporter
2014
I was selected along with seven other composers to participate in the BMI "Composing for the Screen" program, where I was mentored by award-winning composer Rick Baitz.
Received a Professional Certificate in Composing and Orchestrating for Film and Television from Berklee College of Music, which included advanced courses in music composition and film theory.
2013
Toured the US, performing in 13 cities as supporting act for Moldover – inventor,  performer and "The Godfather of Controllerism".