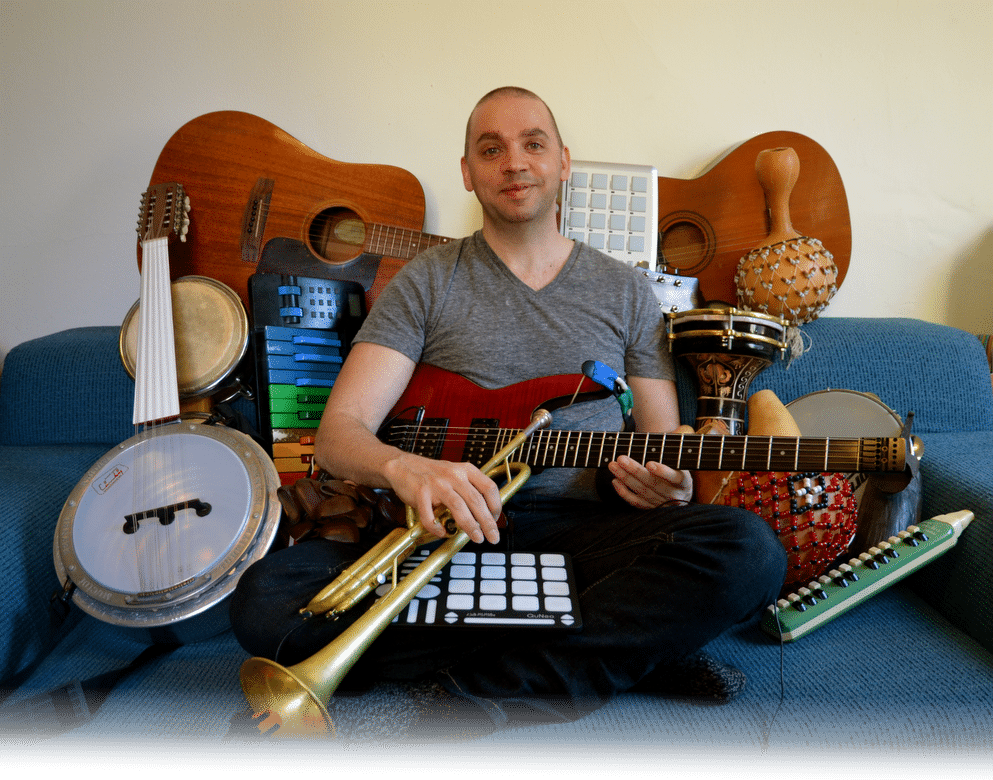 Hi and thanks for taking the time to check out my background, which I've written in the first person to prove that I'm approachable and not at all stuffy. I'm a musician and composer with over 20 years experience creating music. I started out as a performer and composer, with trumpet and guitar as my main instruments, as well as a small arsenal of different instruments I've collected in my travels to places like Spain, Greece and Turkey. My focus on experimental, electronic, ambient and non-western styles of music led to music placements through various libraries and later to film scoring opportunities. Since 2012 I've scored 11 feature films, more than 40 shorts and other projects, including documentaries, web series, animated shorts and branded content.
My music has been licensed on hundreds of television shows on networks including NBC, ABC, The Food Network, Bravo, HGTV, Travel Channel, MTV, DIY Network and TV Land. I maintain a large catalog of songs, with currently over 500 tracks available through different music libraries.
As a bisexual composer, I'm especially proud of the work I've done with fellow LGBTQ artists and other underrepresented filmmakers. I've also been especially fortunate to work with filmmakers from around the world, including China, The Dominican Republic, Finland, France, Spain, Sri Lanka, and  the UK. These collaborations inspire and challenge me, expanding my sensitivity to different types of storytelling and different approaches to the universal languages of film and music.
Career Highlights: 
2017
Provided electro score for "House of Xmas" short film profiling the holiday gathering of an NYC voguing house, produced by Bravó for Dazed Media. Selected as Vimeo Staff Pick.
HP Lovecraft-inspired horror feature Black Wake, starring Tom Sizemore and Nana Gouvea, wins Best Horror Feature at Philip K Dick Sci-Fi Festival.
"Set to the low thrum of composer Scott Hampton's nerve-jangling musical score, these scenes collectively build to a level of fatalistic, end-of-the-world ominousness that's pretty epic for such a small-scale film. "- Film Threat
2016
Scored the YouTube sensation "A Stranger Things Christmas" with jazzy piano inspired by the original Vince Guaraldi score. The animation by Leigh Lahav currently has over 3 million views on YouTube.
A series of parody commercials I scored for Above Average, starring sports legends Victor Cruz and Karl Towns, were featured on Rachel Dratch's Late Night Snack (TruTV).
2015
Provided indie rock score for LGBT-themed documentary Victor's Last Class, official selection at the International Documentary Film Festival in Amsterdam.
2014
I was selected along with seven other composers to participate in the BMI "Composing for the Screen" program, where I was mentored by award-winning composer Rick Baitz.